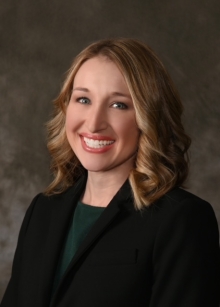 Associate General Counsel
Erica Solosky joined the Office of Legal Affairs in 2022. Prior to assuming her role at Charlotte, she was an assistant chief counsel representing the Department of Homeland Security before the Executive Office for Immigration Review in New York City. Before transitioning to the Department of Homeland Security, Erica served on active duty for more than 5 years as a Judge Advocate in the U.S. Army Judge Advocate General's (JAG) Corps. Erica's practice with the U.S. Army JAG Corps included a focus on administrative, civil, and military justice matters with the Office of the Staff Judge Advocate at the U.S. Military Academy.
Erica earned her B.A. in Political Science from the University of South Carolina, and her J.D. from Northern Kentucky University. She is licensed to practice law in North Carolina and Ohio.
Practice Areas