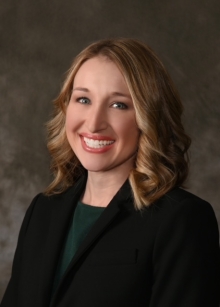 Associate General Counsel and Director of Ethics, Policy, and Compliance
Erica Solosky joined the Office of Legal Affairs in 2022. Erica works closely with campus partners to address compliance questions, interpret University policies, and advise on ethics matters. Erica also focuses her legal practice on international programs and immigration matters, public records reviews, and NCAA compliance.
Prior to beginning her role at UNC Charlotte, Erica was an Assistant Chief Counsel in the New York City Office of the Principal Legal Advisor with Immigration and Customs Enforcement. In that role, she represented the Department of Homeland Security (DHS) in immigration removal proceedings before the Executive Office for Immigration Review. Before transitioning to DHS, Erica served on active duty for more than 5 years as a Judge Advocate in the U.S. Army Judge Advocate General's (JAG) Corps. Erica's practice with the U.S. Army JAG Corps included a focus on administrative, civil, and fiscal law. Her legal practice in higher education began at the United States Military Academy, where she held a supervisory role over military justice matters, administrative hearings, and criminal prosecutions.
In March 2023, Erica assumed the role of Director of Ethics, Policy, and Compliance.
Practice Areas